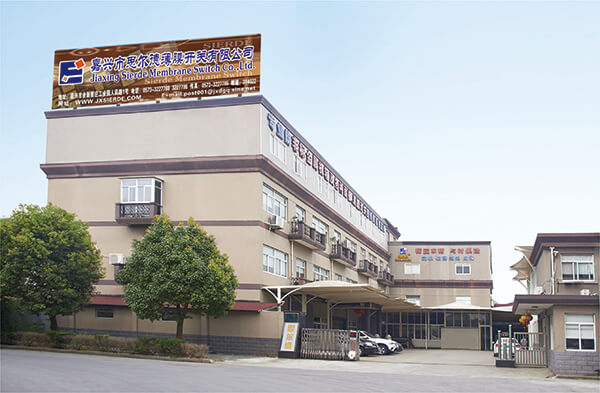 Jiaxing Sierde Membrane Switch Co., Ltd has had over 20 years of history and experience creating display nameplates. Our manufacturing plant is located in the Jia Xing YuXin Cao Zhuang industrial district.The manufacturing plant is about 4000 square meters in area. Our corporate values are based upon honesty, quality, creativity,and a solid developmental foundation. We are striving to establish our own personal corporate brand name based on quality, advanced technology, and excellent customer service. At the same time,we are also very serious about the quality control for all our products and providing all our customers with a wide range of service based on the advanced production technology at our disposal. Our company has located in Shanghai, Hangzhou, Beijing, and Suzhou which are all able to process the customer's orders and provide high quality customer support.

Our company has a strong team which is able to provide good designs based upon the customer instructions and the team can also provide high-quality productions of custom products.

We are also capable of provide immediate on-site design schematics for all our customers. We also accept schematics on a CD-R type media; and based on the diagrams from the CD-R we can also display coloring effects as a reference for our customers. This allows the customer to re-confirm the final productions design on-site.

Our company specializes in precision thin-membrane switches based on PVC, PC, and PET type materials that can be used in industrial, mechanical, and medical appliances. We also specialize in brass, aluminum, and stainless steel faceplates that can be used in industrial equipment, measuring and household appliances. Our services include:

◆Anodizing metals into various colors
◆Sand blasting metal/steel products
◆Reflective and luminescent nametags
◆Highly luminescent 3D logos
◆Aluminum nametags
◆Various standard and non-standard metal chassis
◆Various soft and hard transparent nametags
◆Badges and adhesive logos and

◆Text, logo or design application onto organic glass plate (Plexiglas),mirror plates and/or crystal plates
◆various hardware made using our large punch press facility
◆Flex circuits
◆EL luminescent products,
◆Backlit products
◆and various types of stainless steel buttons for electronic products.
Jiaxing Sierde Membrane Switch Co., Ltd's main advantage is that it's production is flexible enough to cover all the client's needs along with providing the best quality. Because of the manufacturing capabilities that we possess, we can produce a finished product for chassis faceplates. Previously, the customer would have to search for different manufacturers to finish their product. We have solved this problem because we can provide all the services at our plant, regardless of quantity.

Our production facility utilizes the highest quality control standards,and has passed the ISO 9001 2015 Quality management systems-Requirements and ISO 14001 2015 Environmental management systems.

Our company is continually undergoing developmental changes to meet the ongoing demands of a rapidly changing market.

Our company core values will not change and we will continually strive to meet the demands of the future market. Therefore we would like to build a close business relationship in order to create a product which will success in the market based upon its reputation for quality. We will provide a more competitive price for your needs in order to establish a larger margin for your corporation. Together we will succeed and create a perfect masterpiece.